Getting here
Building U7, third floor – Via Bicocca degli Arcimboldi, 8 – 20126 Milan
Reception: 02 6448 7099
Image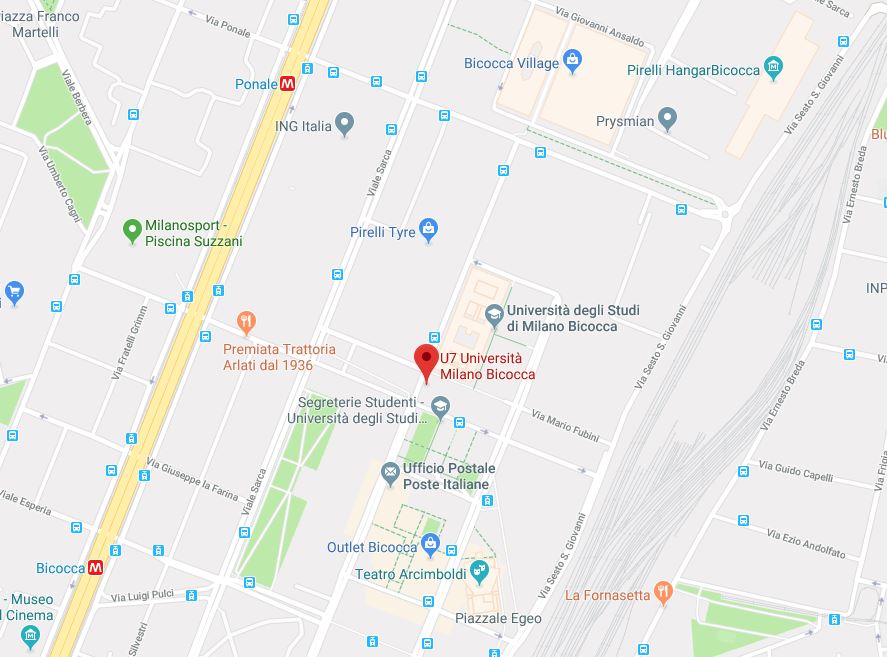 Dipartimento di Sociologia - Università degli Studi di Milano-Bicocca
The closest station to the University of Milano-Bicocca is Milano Greco Pirelli, which is directly served by the following lines:
S9 Seregno-Milano S. Cristoforo
S8 Lecco-Milano P.ta Garibaldi
S11 Chiasso-Milano P.ta Garibaldi
R trains:
Milan-Treviglio-Brescia
Milan-Bergamo via Carnate
Milan-Monza-Molteno-Lecco
Milan-Lodi-Piacenza
Milan-Pavia-Voghera
You can get to Milano Greco Pirelli station from the following stations:
Milano P.ta Garibaldi, in around seven minutes, with four trains per hour;
Milano Lambrate, in around seven minutes on the S9 Line, and on R trains to/from Brescia, as well as some trains from Piacenza and Voghera
You can take the bus 87 to get to the station from Milan Central Station.
Line 5 has two stops serving Bicocca: Bicocca stop, in Viale Fulvio Testi near Piazza della Scienza, and Ponale stop, near Building U16
Line 1: Precotto stop, then tram 7 towards P.le Lagosta
Line 3: Zara stop, then tram 7 towards Precotto
By tram
Line 7: Arcimboldi Ateneo Nuovo stop for Buildings U6/U7, Università Bicocca Scienza stop for Buidlings close to Piazza della Scienza
Line 31: San Glicerio stop
By bus
Line 87: travels through the roads inside campus, links Sesto Marelli with Milan Central Station
Line 51: Ponale Testi stop
Lines 81 and 86: from the Breda Rucellai stop, you can take the pedestrian underpass to get to Piazzale Egeo
Line 728: Milano Greco stop (end of the line)
From Milano Linate airport, take the bus 73 towards S. Babila M1, then at the end of the line take Underground Line 1.
If you are arriving at Milano Malpensa, take the Malpensa Express. You are advised to use trains that stop at the Milano Porta Garibali station.
Alternatively, from the Cadorna station, take Underground Line 1 towards Sesto 1° Maggio F.S.
Come off the Turin-Venice motorway at the "Milano – Viale Zara" exit, then follow signs for Milan City Centre.
Once you have passed the sign announcing you have entered the Municipality of Milan, when you reach the StarTourist Hotel on your left, take Viale Sarca, the first road parallel to the one you are travelling on, on the left.
Continue along Viale Sarca in the same direction and after around one kilometre you will come to the University on your left.